How one town aids returning soldiers
Churches, schools, and families in Warroad, Minn., go to unusual lengths to help smooth the transition from military to civilian life.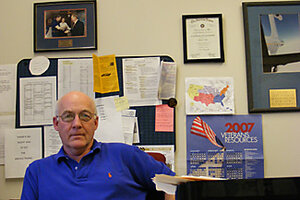 SEAN MILLER
On a crisp Minnesota morning, Art Brandli drove 30 minutes from his home in this northern town to a boiler manufacturer outside of Greenbush. Mr. Brandli, a Department of Defense volunteer, didn't have much time to spare: His daughter was due to give birth to his first grandchild that day, and he wanted to be there for the delivery. But first he was determined to honor Dennis and Terri Brazier, the owners of Central Boiler, for their treatment of a worker who had served in Iraq with the Minnesota Army National Guard.
During his absence, the company had given the soldier, Monty Johnson, his annual bonus, preserved his seniority on the assembly line, and even entered his name in company drawings. His co-workers sent him care packages – everything from toothpaste to hunting magazines. The Braziers also stayed in touch with Johnson's wife, Sheila, inviting her to company parties and offering her money, if needed.
Now, at a brief meeting in the company's break room, Brandli lauded the unflagging support of the Braziers, who in turn called Guardsmen Johnson the real "hero" – to a standing ovation from the assembled employees.
---