Declassified study puts Vietnam events in new light
US signals intelligence during the war came up short in major turning points, according to an NSA history.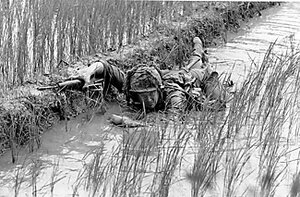 Henri Huet/AP/FILE
US signals intelligence – the much-vaunted ability of American military and spy units to eavesdrop on the radio calls and other electronic communications of an adversary – failed at crucial moments during the Vietnam War, according to a just-declassified National Security Agency history of the effort.
The 10,000 cryptographers and other signals personnel in Southeast Asia at the time did not predict the start of the Tet offensive on Jan. 31, 1968. Prior to that, signals intelligence may have actually misled President Johnson and other top policymakers about the nature of the 1964 Gulf of Tonkin incident, in which a supposed North Vietnamese attack on US forces triggered a major escalation in the war.
US eavesdroppers had many successes during the war, according to the lengthy document, particularly in picking up the tactical communications of North Vietnamese and Viet Cong fighters in the field.
But when it comes to major events, signals intelligence is not magic, as the history makes clear. That is a point current policymakers would do well to remember as they struggle to interpret intelligence dealing with the complex modern problems of nuclear proliferation and Islamist extremism.
In both the Tet and Gulf of Tonkin cases, "critical information was mishandled, misinterpreted, lost, or ignored," writes NSA historian Robert Hanyok in the agency history.
---