A bid for better military relations with China
High-level meetings are part of Admiral Keating's trip this week, following a flap over Hong Kong port visit by USS Kitty Hawk.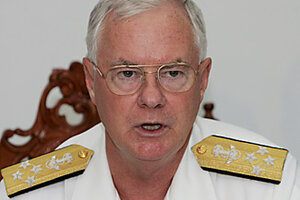 Bullit Marquez/AP/File
US military officials are in China this week for their first high-level visit there since an international flap in November in which Beijing refused to allow US warships into a port for a long-planned Thanksgiving visit.
The incident baffled Washington and further complicated US relations with the Chinese military, the People's Liberation Army (PLA). But that's only one of many issues for military officials as they work to create clearer lines of communication between the two militaries – generally perceived to be a weaker relationship than the diplomatic or the economic ones.
Adm. Timothy Keating, commander of US Pacific Command, and James Shinn, a newly minted assistant secretary of Defense for the region, left Saturday for a week-long trip to China. Their visit will include high-level meetings in which the US aims to better understand the PLA's decisionmaking process and to try to answer the Pentagon's broader questions about China's rapid military buildup and its intentions toward neighboring Taiwan.
---