Enough U.S. help for Afghanistan?
Deployment of 3,200 marines will help, analysts say, but will not provide the kind of counterinsurgency now needed there.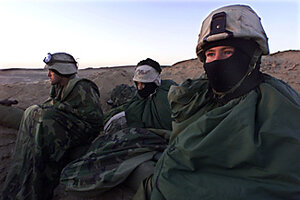 Jim Hollander/AP/FILE
When 3,200 US marines deploy to Afghanistan this spring, the message it sends is that the US remains committed to the security of the country and its future. But the deteriorating situation there won't turn around until the United States makes changes that recognize the mission's strategic and symbolic importance and raise Afghanistan from "forgotten war" status, analysts and a senior retired officer say.
Defense Secretary Robert Gates had opposed sending more US forces to the NATO-led mission in Afghanistan, but he reluctantly conceded after failing to get a greater contribution from allies, many of whom say they have little more to give.
But the marines destined for Afghanistan are on a one-time, seven-month deployment that fills a gap only for trainers and combat forces, say analysts. They won't supply the kind of counterinsurgency that country needs, they say.
That would require more resources, a more effective organizational structure for NATO, and smarter thinking about how to strengthen Afghanistan's political and economic systems, says one retired senior officer. It also would probably mean a greater commitment of US troops, perhaps thousands more.
"If we're going to be ahead of the insurgency, then you have to have a substantial-sized force," says a retired senior officer who didn't want to be named due to the political sensitivities of the matter.
---