Vietnam veterans help returning Iraq soldiers deal with shocks of war
Neil Kenny, decorated for his service in Vietnam, plays big brother to Jeremiah Workman, a medal winner in Iraq struggling with the psychological effects of combat.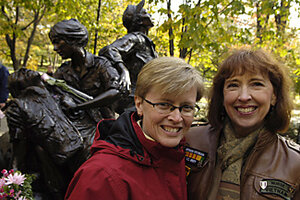 andy nelson – staff
Marine Sgt. Jeremiah Workman wasn't born yet when his friend Neil Kenny received the Navy Commendation Medal for dragging dead and wounded soldiers out of combat in Vietnam. But he has a good idea what it must have been like.
In 2004, during the second battle of Fallujah in Iraq, Sergeant Workman pushed through exploding grenades and machine-gun fire to rescue 10 trapped marines. His bravery earned him the Navy Cross, the military's second-highest honor. Yet today Mr. Kenny and Workman share more than medals. They came home from war with severe psychological wounds – anxiety, anger, and depression. More than their Marine brotherhood and shared valor, it is the painful legacy of combat that has now forged a singular bond between them. "I can tell him everything," Workman says. "I don't trust anybody. He's one of the few people I can talk to."
Their relationship is symbolic of a grass-roots movement by Vietnam veterans to help soldiers returning from Iraq cope with the mental rigors of war and ease the transition to civilian life. Across the country, both groups of Vietnam veterans and individual former soldiers are pitching in to help console, counsel, or just be a voice on the other end of the phone to those who have served in the Middle East.
Throughout history, veterans of one war have always helped those of another. But rarely has the homecoming experience of two sets of veterans been so different, and the bonds between them so deep, as those from Vietnam and Iraq.
---