Modernize U.S. Reserve and Guard, federal panel says
Deployments are up nearly fivefold since 2001, but they operate like a cold-war force.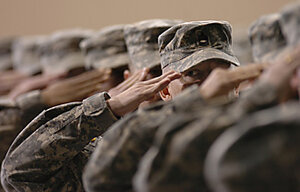 Stephen D. Cannerelli/The Post-Standard/AP
Proposing what it called the first substantive reforms to the National Guard and Reserve in more than 50 years, a panel wants to refashion America's "weekend warriors" into an operational partner with the active-duty military.
That way, the reserve could be quickly mobilized to respond to a terrorist attack or natural disaster on the scale of a hurricane Katrina, says the Commission on the National Guard and Reserves, which released its 368-page report Thursday.
"We don't have the capacity remaining to deal with these homeland defense threats in an adequate way," says Marine Gen. Arnold Punaro (ret.), who headed the panel. "We have put our lives, our property, and our economy at greater risk because of that."
The commission proposed wholesale changes to better integrate the 1.2 million people in the Guard and Reserve with the Army, Navy, Air Force, and Marines. Among its 95 recommendations, the panel called for standardizing their training, providing them with more resources, and expanding the ability of the Pentagon to mobilize them. It also recommended that the general in charge of the National Guard Bureau in Washington receive a fourth star, a nod to the increasingly important role of that job. But it stopped short of saying he or she should become a member of the Joint Chiefs of Staff, a contentious proposal floated early on.
---