Congress eyes defense cuts
The Army's multibillion-dollar modernization program, the Future Combat System, faces serious challenge this year.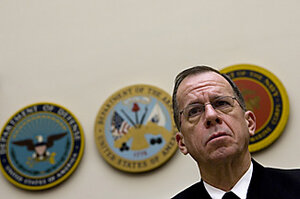 Haraz Ghanbari/AP
Congress will have a greater impact on the massive defense budget this year, looking afresh at many programs long thought to be a sure thing. This includes the Army's multibillion-dollar modernization program, the controversial Future Combat System (FCS).
A high-tech series of air and ground vehicles linked by a wireless network, FCS has faced criticism before for being expensive and complicated. Lawmakers have previously been quick to cut funding from the program. But senior defense officials acknowledge that this year the system is facing real trouble.
"The program is really in jeopardy, and I think it's on the ropes," says one senior officer, who wished to speak anonymously and only on background because of how sensitive the issue has become.
The fiscal 2009 budget released last week included $3.6 billion for FCS, continuing a program now thought to cost $120 billion by completion.
But recent comments by members of Congress, analysts, and even the Defense secretary himself, indicate all that money may not stay there long.
"Frankly, it is hard for me to see how that program can be completed in its entirety," Defense Secretary Robert Gates told a Senate panel last week. "But I think that in light of what are inevitably going to be pressures on the defense budget in the future, I think that that one is one that we will have to look at carefully."
FCS comprises about 14 vehicles, including unmanned aerial planes and tanks and other ground vehicles. The technology that links them all allows the soldier on the ground to be linked through a transmitter to the senior commander during an operation. It represents one of the most high-tech initiatives for land warfare.
But Congress isn't convinced.
Last year, lawmakers cut funding for FCS as they faced mounting pressure to protect troops in combat. They initially tried to "reallocate" as much as $900 million that was earmarked for the program to help pay for body armor for soldiers, up-armored Humvees, Mine Resistant Ambush Protected (MRAP) trucks, and other war needs.
---