With Gates's shift on drawdowns, little reprieve ahead for U.S. Army in Iraq
In agreeing to stop the post-'surge' drawdown in Iraq, Defense secretary keeps pressure on the service.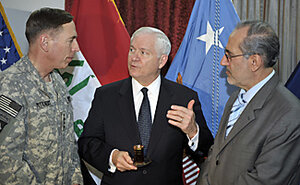 Department of Defense/AP
Defense Secretary Robert Gates's decision this week to hold off on removing more troops from Iraq after this summer means the Army probably won't get the reprieve many in the service had hoped for.
For months, Secretary Gates had advocated bringing home as many US forces as possible, raising the possibility that the drawdown could continue past July. But he reversed course Monday after a meeting with his top commander in Iraq, Army Gen. David Petraeus, announcing that he now favored a "pause" in the drawdown to ensure that recent security gains continue.
Although Gates left open the possibility of further troop reductions later in the year, it is now more likely that as many as 135,000 troops – the level that existed before last year's "surge" – will stay in Iraq into early 2009, when a new administration moves into the White House. Gates's shift also reignites debate over how much longer the Army can endure that level of commitment of its forces.
"It means that we're just kicking the can down the road again and hoping for the best," says Larry Korb, a senior fellow at the left-leaning Center for American Progress in Washington who served in the Pentagon in the 1980s.
---