Four arrested on charges of spying for China
Chinese espionage has become one of the most pervasive US counterintelligence problems, officials say.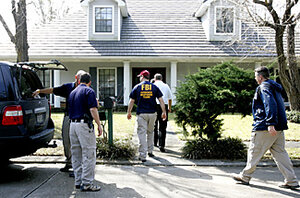 Matt Stamey/The Courier/AP
Last July, as they drove to Dulles airport in a rented car, Kuo Tai-sheng reached over and stuffed a wad of cash in the shirt pocket of Gregg W. Bergersen.
That is the Federal Bureau of Investigation's (FBI) version of events, in any case. They had been tracking Mr. Bergersen, a Defense Department weapons policy analyst, and Mr. Kuo, a furniture dealer and naturalized US citizen living in New Orleans, for months, searching their hotel rooms, wiretapping phone calls, even secretly copying the contents of Kuo's computer hard drive.
According to conversation transcripts from a Justice Department affidavit unsealed Monday, Bergersen said, after receiving the money: "Now the other information I gave you, I'm very, very, very reticent to let you have it, because it's all classified." He continued, "But I will let you see it ... and you can take all the notes you want."
Bergersen, Kuo, and a third alleged conspirator, Yu Xin Kang, were arrested on espionage charges Monday. In a separate case, former Boeing engineer Dongfan "Greg" Chung was also arrested the same day and charged with illegally passing company trade secrets.
---