Congress: Why should each military branch get same budget?
House panel study, expected this week, may lead to Air Force, Navy getting smaller portion of defense spending.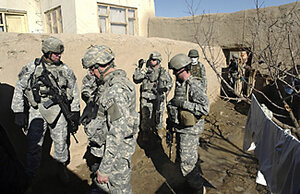 RAHMATULLAH NAIKZAD/AP
The defense budget has been sliced into virtually the same-sized pieces for decades, with roughly equal shares of resources going to the Army, Air Force, and Navy. In a move analysts say is sure to strike fear among some services, Congress this week will begin asking why.
A bipartisan House panel is nudging the Pentagon to begin a conversation on how to reform itself in many ways. But at the Pentagon, talk of change usually has a budgetary impact.
And, despite the past several years of "nation-building" and counterinsurgency operations in Iraq and Afghanistan, there has been virtually no change in the way the defense budget is carved up in at least 40 years, says Rep. Jim Cooper (D) of Tennessee, who chairs the panel.
"That right there is a statistical indictment of the process," Representative Cooper says. "There had to be a year in which there were greater needs in one area or another, and the system was unable to accommodate it."
The fiscal 2009 budget request released this month, for example, shows the Army requesting a 27 percent share, the Air Force asking for a 28 percent share, and the Navy, which includes the Marine Corps, wanting a 29 percent share of the proposed $515 billion budget.
Cooper's seven-member panel is expected to release a study this week on each of the branches' "roles and missions" that may threaten services that are seen to perform more conventional warfare. With the focus on the ground wars in Iraq and Afghanistan, that makes some in the Navy and Air Force worry.
---