U.S. troops buy own gear for safety, style in battle
Since 9/11, the market for tactical war gear has grown to $150 million annually.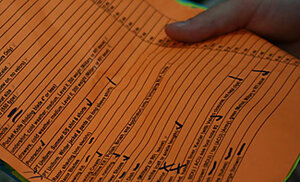 Patrik Jonsson
Commando Military Supply on Victory Drive here is about as different from a musty Army surplus store as you can imagine.
More REI than M.A.S.H., Commando is regularly jam-packed with deploying grunts and sergeants, poking around for custom gear including $200 flashlights, $150 Oakley protective sunglasses, $180 Thinsulate boots, and $20 thermal socks.
"When you're comfortable and you know where all your gear is, it makes you a better fighter," says Lt. Tucker Knie, an Army Ranger perusing custom ammo pouches and techno-fiber socks. "You don't want to be rummaging around in your pocket during a firefight."
The traditional Army credo is that it's guts that win the glory – not fancy long-johns or Oakley sunglasses. But that old-school thinking is wicking away like perspiration through Gore-Tex as US soldiers today go beyond military-issue battle dress uniforms in favor of top-of-the-line gear to help them get home in one piece – and look sharp, too.
One reason, critics say, is that military procurement, especially of life-saving equipment, is still too slow. Quietly, however, the Pentagon – with the Army leading the charge – has begun bypassing rigid procurement rules, loosening uniformity requirements, and even spearheading technical innovations in gear, ranging from flame-retardant shirts to low-infrared signature zippers.
---