Bombing in New York: latest recruitment protest?
Despite Times Square incident, the military says enlistment centers are key to recruiting.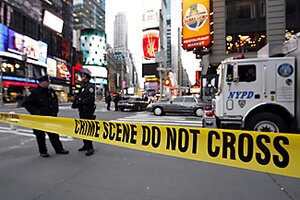 Chip East/Reuters
New York; and Oakland, Calif.
The stern, determined portrait of Uncle Sam, announcing "I want you," glares out at potential recruits from the military recruiting station in Times Square. Only this time, there is a blackened and distorted doorway next to it – the result of an early-morning bomb on Thursday.
Officials say that such efforts are not going to deter them: Military recruiting stations remain one of the main ways to meet enlistment quotas. Military officials also maintain that the centers are part of the fabric of America – a way for civilians to interact with members of the armed services.
"Sometimes it's the only military presence in a community," says Lt. Col. Anne Edgecomb, a spokeswoman for the US Army, which has 1,650 recruiting centers in the United States. "It may be the only way to see someone in uniform and is crucial for the volunteer Army."
However, there have been some isolated incidents at recruiting stations, aside from the bombing. Last month, 2,000 protesters descended on Berkeley, Calif., many in support of the military, after the City Council voted 6 to 3 to draft a letter to local Marine recruiters calling them unwelcome intruders. The council had also pledged to facilitate protests by the antiwar group Code Pink outside the downtown Marine recruiting office.
---