Same war. Same platoon. Two paths since leaving Iraq.
Travis Pinn and Vincent Emanuele served side by side in Anbar Province. Now civilians again, one just wants the quiet life; the other aspires to help end the war.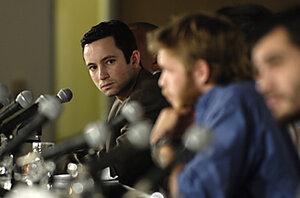 Andy Nelson – staff
Vincent Emanuele thinks of his teenage self growing up in Indiana and recalls being interested in three things: "girls, beer, and sports." About that same time, out in California, Travis Pinn was looking for adventure: scuba diving, shooting guns, and jumping out of planes.
Both joined the Marine Corps in 2002 as the US prepared to invade Iraq. Assigned to the same platoon, they fought and lived side by side in Iraq's stark western plains. Now, six years later, both have left the Marines, profoundly changed by their time at war.
But their shared experiences have set the two veterans on different paths. Mr. Emanuele, the former teenage jock, is an intellectually curious antiwar activist who aspires to make big changes in the world. Mr. Pinn, the daredevil, is introspective, starting a career as a set painter for Hollywood and trying to live life at a slower, simpler pace. Of the two, Emanuele's is the more unusual evolution, and veterans who speak out against the wars in which they fought have a storied and somewhat controversial history in American history.
But Pinn is not critical of his buddy's opposition to the war in Iraq – or his decision to go public about it. "I support him," says Pinn. "He's working to make people aware."
Two lives converge in the Marines
---