Medal of Honor is tribute to sailor's sacrifice to save others
Navy SEAL Michael Monsoor will posthumously receive the award, only the third time it has been bestowed during the Iraq war.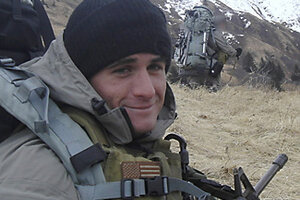 United States Navy/AP
Petty Officer 2nd Class Michael Monsoor fought dozens of battles in the streets of Ramadi, shouldering his MK48 machine gun without complaint in the 130-degree heat of Iraq's violent Anbar Province.
In May 2006, only a month into his first deployment to Iraq, the Navy SEAL from Garden Grove, Calif., ran under fire into a street to drag to safety a wounded comrade who was shot in the leg, earning a Silver Star for his courage.
On Sept. 29, 2006, another act of valor would cost Mr. Monsoor his life – and save the lives of three comrades. For that act, he will posthumously be awarded a Medal of Honor on April 8, the White House said Monday.
Monsoor "distinguished himself through conspicuous gallantry and intrepidity at the risk of his life," said an official summary of action. He is the first sailor and the third service member overall to receive a Medal of Honor for actions in the war in Iraq.
That September morning, Monsoor and a group of SEAL snipers took up position on a residential rooftop as part of an operation to push into a dangerous section of southern Ramadi. Four insurgents armed with AK-47 rifles came into view, and the SEAL snipers opened fire, killing one and wounding another. Loudspeakers from a mosque broadcast calls for insurgents to rally, and residents blocked off nearby roads with rocks.
---