Congress to hear Petraeus on Iraq with eye on U.S. elections
Democrats hope this week's hearings can shift the war's course. GOP wants Clinton, Obama to acknowledge its gains.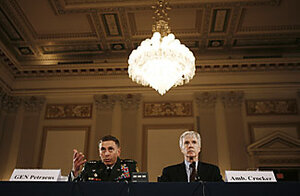 Jason Reed/Reuters
The last time Gen. David Petraeus and US Ambassador Ryan Crocker appeared before a congressional panel, the focus was on the military: Could a "surge" of 30,000 US troops reduce the violence in Iraq? Now, seven months later, the calculations of an election year have intervened.
As senators and congressmen prepare this week to question the two men in charge of the US effort in Iraq, the focus will become, more overtly than ever, the US presidential and congressional elections this fall. The stakes couldn't be higher.
That's in part because all three major presidential candidates will question General Petraeus and Ambassador Crocker. But it's also due to the political strategies of the two parties.
For Democrats, hearings this week set up what is likely to be their last bid to change course in Iraq – and to ensure that the next president doesn't inherit a debacle. "We believe there is still time for you to recognize that a change in strategy is necessary to repair the grave damage done to our nation's security," said senior Democrats in a letter last week to President Bush.
Republicans want to force Democrats, especially the two senators on the front lines of the presidential race, to concede progress on the ground in Iraq – an admission that they say will make it harder to make the case for an early withdrawal.
---