Stresses still high on U.S. military
Bush announced Thursday that Army tours will be cut to 12 months.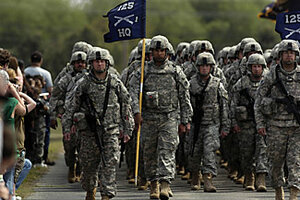 david morris/killeen daily herald/ap
The US military for the immediate future continues to face daunting arithmetic: continued war, and too few warriors to go around.
Shorter tours in Iraq could help. President Bush's announcement Thursday that he is reducing Army combat deployments from 15 to 12 months for troops sent overseas later this year is aimed at reducing stress on soldiers and their families.
But 140,000 US troops will remain in Iraq at least through September, per the recommendation of top commander Gen. David Petraeus. Many military experts believe that stabilizing the situation there could require a substantial US presence for years to come.
The bottom line: Many ground units have deployed multiple times to Iraq, and "people are tired," according to the chairman of the Joint Chiefs of Staff Adm. Michael Mullen. Army leaders say the readiness of their brigades is down, their equipment is worn, and their ability to respond to any new contingency is questionable.
"We face a large and growing gap between our military commitments and our military capabilities. Something has to give," Andrew Bacevich, a West Point graduate and professor of international relations at Boston University, said in a Senate hearing Wednesday.
By most accountings Iraq is now the third-longest conflict in US history, shorter only than Vietnam and the Revolutionary War.
More than 500,000 US troops have served in Iraq since the 2003 invasion. Almost 200,000 have been deployed there more than once.
---