As Pakistan changes, should U.S. policy?
The US is increasingly out of sync with Pakistan's newly-elected government, say analysts.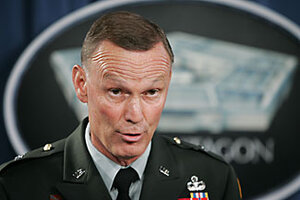 Manuel Balce Ceneta/AP/File
The Bush administration's focus on military solutions against extremists in Pakistan has analysts concerned that the US is persisting in a failed policy with a critical ally at a time when changing circumstances in the region – including a newly elected government in Pakistan and heightened conflict in Afghanistan – demand a strategy shift.
Last week, Deputy Secretary of State John Negroponte called on Pakistan to drive extremism from its tribal areas, saying "we will not be satisfied" until all militant activity is under control. Mr. Negroponte, speaking in Washington, stressed the importance of maintaining a strong relationship between the two countries.
But critics say his remarks show the US stance toward Pakistan is not changing quickly enough to factor in the weakening of longtime ally President Pervez Musharraf and the emergence of a democratically elected government.
Recent events reflect increased dissension between the two countries since the new government took over earlier this year.
Pakistan has signaled it will negotiate with militants in a bid to calm the restive border region, a move Washington opposes. It has also frowned upon the US military's appointment of a senior American officer, Maj. Gen. Jay Hood, as military envoy to Islamabad.
---