Pentagon scales back AFRICOM ambitions
Opposition in Africa means the new command's headquarters will more likely be in US or Europe.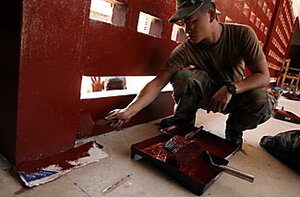 Tugela Ridley
When Pentagon strategists sought to create a new military command to oversee Africa, they believed they could build one that deemphasized military might and would serve as an exemplar of what so-called US soft power could do around the world.
But in recent months, the Pentagon has had to scale back its ambitious vision to adapt Africa's political terrain, military officials acknowledge, adding they remain committed to the original idea of a military command to promote peace in the region.
For now, officials have ruled out basing the headquarters anywhere in Africa and may in fact locate it on the East Coast, a senior defense official says. They have also backed away from selling the new command as a full "interagency" organization that spans military and nonmilitary entities.
"We sort of admitted all along that we were building something that we'd never built before," says one senior defense official, on how the command has changed. "So you gotta start somewhere, you gotta take a stab at it."
As the US Africa Command – or AFRICOM – works to stand on its own by October, the change in plans illustrates the limits of the US trying to use the military to try to broaden its influence across the globe.
The creation of AFRICOM represents a major reorganization of the Defense Department's family of six regional commands, and recognizes the strategic, security, and economic interests the US has begun to confront in Africa.
In addition to the continent's vast oil reserves, the US is wary of China's continued investment there. Military officials also believe the porous borders of many African countries allow havens for terrorist training and smuggling.
---