Detainee treatment: new details
A Justice Department audit concludes that overall, the FBI didn't engage in harsh treatment.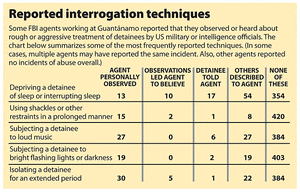 SOURCE: Of?ce of the Inspector General, US Department of Justice/Rich Clabaugh–STAFF
At the US prison at Guantánamo Bay, Cuba, military guards called their sleep-disruption efforts for detainees the "frequent-flier program." This involved constant cell changes meant to disrupt prisoners' rest and lower their resistance to interrogations.
Detainees routinely are blasted with loud music at many US holding sites. Songs used include the one in Meow Mix cat-food commercials and "Let the Bodies Hit the Floor" by the heavy-metal band Drowning Pool.
US interrogators have also threatened to send detainees to countries thought to use torture. One Guantánamo prisoner was taken on a long boat ride meant to trick him into believing he'd been handed over to another government.
As these details attest, the world of US interrogations of terrorism suspects comes to vivid life in a newly released Justice Department audit of the Federal Bureau of Investigation's role in the effort.
The conclusion of this report by the inspector general is that in general, FBI agents refused to participate when US military or intelligence interrogators used harsh and potentially illegal methods on their prisoners. FBI officials in Washington clashed with the Pentagon and the Central Intelligence Agency over how to handle two top Al Qaeda operatives in US hands.
---