Will the war be forgotten after Memorial Day?
Many veterans worry that Americans have become more interested in other issues – the economy, the presidential campaign, and pop culture – than the long wars in which thousands of US troops have fought and sacrificed.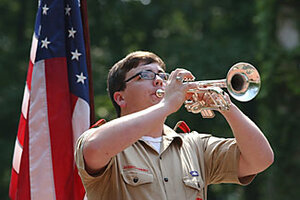 Frank Couch/The Birmingham News/AP
Saluting the troops in Iraq and Afghanistan – and honoring veterans of those wars – is a key part of Memorial Day activities today. That's to be expected.
But come Tuesday, and during the rest of the year, will the fighting and the sacrifice fade into the background as Americans' main concerns return to high gasoline prices and presidential election politics?
That's been the pattern in recent months, and there's concern among the troops that it'll happen again.
"Lots of our vets have started to call it 'Forgetistan,' " says Paul Rieckhoff, head of the Iraq and Afghanistan Veterans of America (IAVA) who served as an infantry platoon leader in Iraq.
Over the past year there's been a steep drop-off in news coverage of the conflicts. That was in tandem with a decline in public awareness of casualty rates and concern about the wars, eclipsed instead by the public's worries about the economy. Such signs that the wars are on the mind of fewer and fewer Americans have prompted efforts by the IAVA and others to bring them into focus for the rest of the country.
Mr. Rieckhoff's comments were part of a conference call piped into more than 230 simultaneous "house parties" the group organized across the country this month to view the film "Charlie Wilson's War." The film details US involvement in the Soviet-Afghanistan war in the 1980s. The IAVA hoped that organizing the viewings and a conference call afterwards – with former Texas congressman Wilson, Reickhoff, and former Marine officer and author Nathaniel Fick taking questions from house party participants – would spark discussion about America's current war in Afghanistan.
---