With Iraq toll down, U.S. more optimistic
As 'surge' brigades leave Iraq, military officials hope the improved security will hold.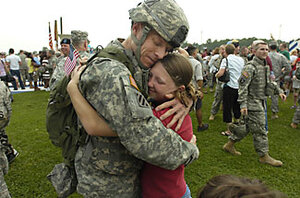 Stephen Morton/ap
The "surge" of American troops in Iraq last year winds to a close next month when the last two surge brigades redeploy home.
Security conditions in the Iraq they are leaving are much improved over those the extra troops encountered when they arrived, say analysts and defense officials, many of whom are confident that trend will continue even without the extra US troops.
The departure of the two brigades comes as the number of American casualties is at a new low. Of the heavy fighting that continues in Iraq, in places like Basra and the Baghdad suburb of Sadr City, much is now being led by the Iraqis themselves. As a result, the number of US casualties last month fell to 19, a number not seen since February 2004, according to icasualties.org.
The toll among Iraqi security forces has also fallen, from 980 in March to 506 in May.
"The conditions in Baghdad are changing," says Maj. Gen. Jeffrey Hammond, the American leading the Bagdad command. "There's no place for those terrorists and criminals. The people are fed up with them. They're tired of the violence and destruction. They vote to move on."
Three of the five combat brigades that made up the surge of US troops announced in January 2007 and deployed by last spring have returned home without being replaced. Currently, 4th Stryker Brigade, 2nd Infantry Divison of Fort Lewis, Wa., has begun to leave Iraq and the 2nd Brigade, 3rd ID, Fort Stweart, Ga., leaving 15 combat brigades there for the foreseeable future.
---