Air Force shake-up may lead to deeper overhaul
Secretary Gates is likely to nominate a new civilian chief in days.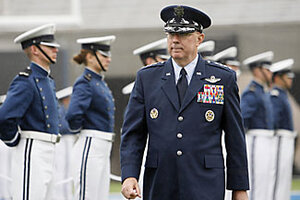 Charles Dharapak/AP/file
The US Air Force must undertake a wholesale assessment of itself in the wake of the extraordinary firings last week of its top two officials, say analysts.
Defense Secretary Robert Gates said Thursday that the forced resignations of Air Force Secretary Michael Wynne and Chief of Staff Gen. Michael Moseley was only the result of a loss of confidence in the service's ability to handle nuclear weapons after two embarrassing incidents in the past year. But those events capped a period of turbulence between the service and the Pentagon and Congress over broader issues such as acquisition, contracting, and strategy, analysts say.
"I think it's going to take aggressive leadership to restore the Air Force's reputation with regard to a whole series of things that don't really have a lot to do with nuclear weapons handling," says Tom Ehrhard, a retired Air Force colonel and now a senior fellow at the Center for Strategic and Budgetary Assessments, a think tank in Washington.
Within days, Mr. Gates is expected to nominate a new civilian official to oversee the service. That individual's first job will be to refocus on the Air Force's nuclear mission, its most critical job but one it had lost sight of, Gates said Thursday.
---