Afghanistan death toll pressures U.S., allies
Record U.S. fatalities there last month highlight the need for more troops, but reserves are few.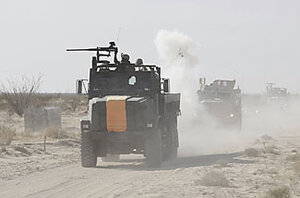 Rick Scuteri/Reuters
The rate of American fatalities in Afghanistan last month, the highest since US forces entered the country in 2001, is putting new pressure on the US and its allies to do more to counter insurgents there, but the pool of troops available to deploy is mostly dry.
US officials, including Defense Secretary Robert Gates, have signaled their desire to send more US troops to Afghanistan to fight a recently emboldened Taliban, more than six years after it was first defeated. But defense officials say the Pentagon is hamstrung by simple math: Mr. Gates can only send additional troops to Afghanistan when more are redeployed home from Iraq.
"I don't have troops I can reach for to send into Afghanistan until I have a reduced requirement in Iraq," said Adm. Mike Mullen, chairman of the Joint Chiefs of Staff in a Pentagon briefing Wednesday.
Admiral Mullen said there is no plan yet to accelerate new deployments to Afghanistan. These are still scheduled for "sometime in 2009," despite the improved situation in Iraq and emerging signs that violence in Afghanistan will continue to rise throughout the summer.
Last month, 28 American troops were killed in fighting in Afghanistan, the highest monthly number since 2001.
Maj. Gen. Jeffrey Schloesser, the top US commander in the country's eastern sector, says the violence is up 40 percent over last year in the US-led eastern sector of the country – still touted as a model of counterinsurgency work.
---