Top task for Air Force: rebuild credibility
New leaders must better secure nuclear weapons after snafus led to firing of their predecessors.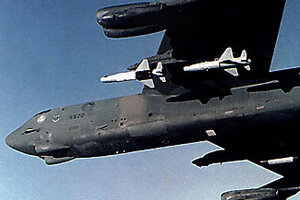 NEWSCOM/FILE
The US Air Force has developed a cultural indifference toward the proper care and handling of nuclear weapons, and analysts say the two men slated to take over the top civilian and uniformed positions will have to make fundamental changes to restore its credibility in the nuclear realm.
When Defense Secretary Robert Gates announced last month that he would replace Air Force Secretary Michael Wynne and the chief of staff, Gen. Michael Moseley, Mr. Gates cited their failure to properly safeguard nuclear weapons.
But whatever failures are attributed to Mr. Wynne or General Moseley, analysts say the firings capped more than a decade of negligence by the US military and the Air Force in protecting the American nuclear arsenal.
"It doesn't receive the kind of attention that it did 20 years ago," says Chris Hellman, a policy fellow at the Center for Arms Control and Non-Proliferation, a policy group in Washington. "[Missile silo] duty in Minot, N.D., if it ever had a sexy aspect, doesn't have it any longer."
---