When the war comes back home
When veterans of wars in Iraq and Afghanistan bring their troubles home, police and judges often are the first to deal with them.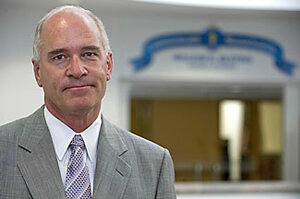 ann hermes
During 21 years in the Marine Corps, Jeff Johnson saw young adults walk into his recruiting office and newly minted marines walk out of boot camp just a few months later. Now working at the other end of that pipeline at the Wisconsin Department of Veterans Affairs, he sees far different, troubling changes in those coming back from Iraq and Afghanistan.
"The changes were dramatic. I'd never seen these kinds of changes in people," says Mr. Johnson of those wrestling with the mental and physical trauma of war.
The once upstanding service members were getting arrested for domestic violence and bar fights, and being pursued by police as they raced along streets at 100 miles per hour – often with drugs or alcohol involved – seeking to replicate the adrenaline rush of combat or to commit suicide by motorcycle or police bullets.
He was moved to action, creating a presentation about the mental injuries of war for police and other first responders, usually the ones called when a veteran hits bottom.
A year later, he's delivered his message more times than he can count and he's been in demand from police departments across the country, hungry to prepare for what they worry is a coming surge of mentally injured veterans.
"A lot of them were getting in trouble with police. If [the police] know what resources are out there then they can funnel them into that," says Johnson, who has one son who is an Iraq veteran and another entering the service.
---