Afghan fight drawing foreign jihadis
They seem to be moving from Iraq to Pakistan and Afghanistan.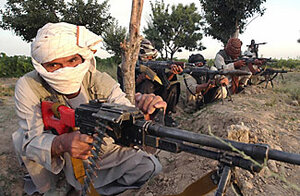 Rahmatullah Naikzad/AP
This week's brazen and deadly attack on a US-Afghan outpost in an area near the Pakistani border is raising new concerns that foreign fighters bent on fighting the West are retraining their sights from Iraq to Afghanistan and Pakistan.
Sunday's predawn assault on the still-unfinished camp left nine US soldiers dead and was the worst single toll for US forces in Afghanistan since 2005. It came only a few days after the chairman of the US Joint Chiefs of Staff, Adm. Mike Mullen, said on a visit to Kabul that more foreign fighters are arriving in Pakistan's tribal areas just across the border.
From there, he said, the foreign fighters, which intelligence has revealed includes members of Al Qaeda, can join Taliban forces in Afghanistan to launch attacks – like Sunday's – against US and Afghan forces.
US officials caution that the number of foreign fighters streaming into the border region near Afghanistan is still relatively small. But coupled with intelligence finding that fewer foreign fighters are seeking to enter Iraq, as well as with postings from jihadist websites exhorting would-be foreign fighters to take up the fight in Afghanistan, the arrivals suggest that Islamist extremists are adjusting their international fight to hit the United States and the West where they perceive them to be weakest.
---