How one vet's persistence paid off
Paul Weaver wanted answers from the VA about his disability benefits. In the end, the Iraq war vet helped many others.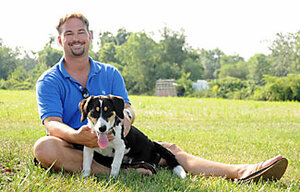 SABINA LOUISE PIERCE/Special to The Christian Science Monitor
It was an average-looking letter that landed in Paul Weaver's mailbox. But bearing news that his veteran's disability benefits had been stopped, it felt more like a ton of crashing bricks.
He felt shock, then resignation.
He thought "I can't do this anymore. I have to move on."
Mr. Weaver had sought treatment at US Department of Veterans Affairs (VA) facilities a few years earlier for what had been diagnosed as a serious illness as well as for post-traumatic stress disorder (PTSD) from his Marine Corps deployment to Iraq in 2003, where he was a machine-gunner with the original invasion force.
Now it was July 2007, and he wanted to leave the battle behind him – even if it meant giving up thousands of dollars a month in disability benefits. But his father, a retired senior chief petty officer with the Navy, wouldn't hear of it.
"You can't just have a civilian tell you 'no,' " Paul Weaver Sr. told his son. "They owe you a day in court."
He decided to fight – and unwittingly started a chain of events that would lead to improvements in the local San Diego VA system, benefiting thousands of others. They are the kinds of improvements called for by Congress, veterans groups, and the public as the VA system comes under increased scrutiny with the arrival of a new generation of veterans from the Iraq and Afghanistan wars.
---