Air Force leadership works to regain trust
The new Chief of Staff must overcome a recent pattern of service mismanagement.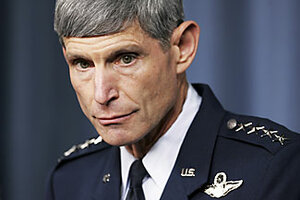 Haraz N. Ghanbari/AP
The Air Force is beginning a new chapter in an attempt to put its many troubles behind and to fundamentally change its culture regarding everything from nuclear safety to buying new aircraft.
As that process begins in earnest, the new Air Force leadership says it will demand a new level of accountability from officers involved in its recent problems.
In the coming weeks, senior leaders will complete a review that may result in the dismissal or punishment of officials involved in nuclear blunders that resulted in the unprecedented firings of the air service's top two officials earlier this summer. And it remains unclear if the jobs of senior officials within the service's acquisition departments will be safe after Defense Secretary Robert Gates took over the service's controversial bid to replace its fleet of aerial refuelers.
But as those past failures reverberate, the Air Force must be reinstilled with the ethos of "precision and reliability," says the man who will lead the service into this new phase.
"We will work together to reinvigorate the Air Force's institutions and show ourselves completely worthy of America's trust," said Gen. Norton Schwartz, the new Air Force Chief of Staff, during a brief Pentagon appearance Tuesday. "The imperative is now."
General Schwartz, accompanied by Michael Donley, the acting Secretary of the Air Force, must restore the service's credibility within the halls of the Pentagon, across the Air Force, and the American public, say experts in and outside the Defense Department.
---