New challenge in drug war: semi-subs
At $2 million apiece, the craft poke out only a foot above water and can carry 12 tons of drugs.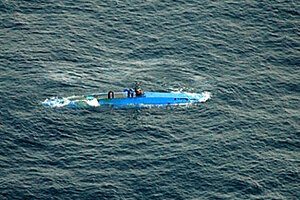 US Navy/File
Drug cartels have turned to a new and effective vehicle to smuggle their goods, using small, homemade "semi-submersibles" that are hard to detect and yet effective at carrying millions of dollars worth of cocaine and other illicit drugs that end up in the United States.
Military officials who oversee Latin and South America have grown alarmed by the increased use of these boats, which poke out above the water only a foot or so but carry more than 12 tons of cargo. The military's ability to interdict the craft is hampered in part because its attention has been focused on the wars in Iraq and Afghanistan and on border security.
"We're in a holding pattern," says Rear Adm. Joseph Nimmich, who heads a military joint task force in the Florida Keys overseeing the drug fight. "We are maintaining our own but not making huge progress."
The semi-subs, known as "self-propelled semi-submersibles," also represent a serious national security threat: Today it's drugs, but tomorrow's cargo could be heavy weaponry, senior defense officials warn.
Interdictions set to double from 2006
---