Troubled Air Force tanker program halted
Defense Secretary Robert Gates calls the aircraft procurement effort too flawed to continue.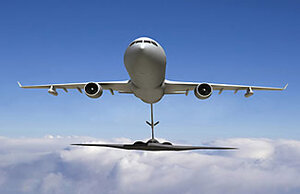 Northrop Grumman Corp./AP/FILE
Once again, there is no joy for the Air Force.
The most recent delay in the service's bid to procure a new tanker means it could take three more years for the service to see a new refueling plane. And by that time, say experts in Washington, the Air Force will have had to completely revamp its flawed acquisition program blamed for years of delays in what the service says is its most critical purchase.
"It's like we're starting over," says Loren Thompson, a senior analyst at the Lexington Institute, a public policy group in Arlington, Va., adding that the service must now enter a phase of extreme introspection.
"The Air Force so thoroughly fouled up the acquisition of the next generation tanker that it has raised broader questions about the acquisition community," he says.
On Wednesday, Defense Secretary Robert Gates made a surprise announcement that he is canceling altogether the $35 billion contract to replace the Air Force's fleet of tankers, a move that put defense giants Boeing Co. and Northrop Grumman back at Square 1.
The move came after the Government Accountability Office (GAO) issued a controversial set of recommendations earlier this summer saying that the Air Force's original decision to award the contract for 179 new tankers to Northrop Grumman and its partner, France-based EADS, was flawed.
---