Heroic act, medal denied – and a debate
Defense Secretary Robert Gates questioned a fallen marine's award for
covering a grenade to save his comrades.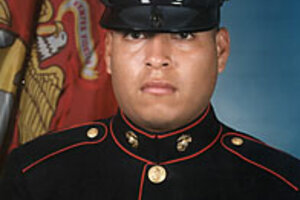 U.S. Marines/AP/FILE
Sgt. Rafael Peralta died in Iraq in 2004 after covering a grenade to save comrades. But today his family and Marine brothers wonder why a grateful nation isn't grateful enough to bestow upon him its highest military honor.
The Pentagon is awarding Sergeant Peralta the Navy Cross, the second-highest award for valor, and not the Medal of Honor, the award for which he was recommended by his fellow Marines, the Navy, and the Marine Corps.
But now the world of battlefield ethos is mixing with Beltway politics as the Peralta family, his Marine brethren, and even members of Congress protest the decision made last week by Defense Secretary Robert Gates to downgrade the award.
"I am living proof of what Sergeant Peralta did that day," says Robert Reynolds, who was beside Peralta the day he died. Mr. Reynolds says he was able to survive an explosion inside a house in Fallujah in November 2004 when
Peralta, already severely injured, snagged a live grenade and thrust it against himself, shielding Reynolds and at least three others from probable death.
Reynolds believes his friend deserves the Medal of Honor. A bipartisan group of six members of Congress agrees, and sent President Bush a letter last week expressing their "extreme disappointment" at the decision to downgrade the award to a Navy Cross and requesting a review of the Peralta case.
Pentagon officials have yet to respond to the inquiry but believe their decision was the right one, and they don't believe a new review is warranted.
The Medal of Honor is a presidential award that was chartered by Congress. Only the president can make the award unless Congress makes a special move to award it on its own.
---