US crossing more borders in terror war?
The alleged incursions into Syria, and previously into Pakistan, could be risky.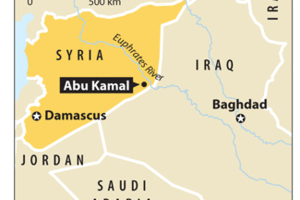 Scott Wallace – Staff
In the name of protecting its forces in Afghanistan and now Iraq, the United States appears to have begun to step up a bold gamble: conducting raids in countries it believes are not doing enough to fight extremist militants.
But taking such actions in Pakistan and now Syria may involve high diplomatic risks and offer limited military gain, say experts outside the military. "It could be morally justifiable, legally justifiable, and strategically a mistake," says Michael O'Hanlon, a senior fellow at the Brookings Institution in Washington.
For the past few months, there have been reports of US airstrikes inside Pakistan as violence increased in neighboring Afghanistan. Over the weekend, the US reportedly conducted a strike inside Syria's shared border with Iraq.
Syrian officials say the US sent four US helicopters across the Syrian-Iraqi border on Sunday to carry out a raid against suspected militants. Damascus claimed that the attack, reportedly carried out by US Special Forces units, resulted in the killing of eight civilians near the border town of Abu Kamal.
---