Americans' views of military service improve
A bad economy and better news from Iraq may be helping to increase interest in and support for enlistment.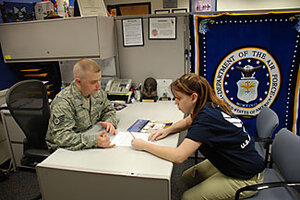 Susan Bainbridge/Special to The Christian Science Monitor
The American public's increased uncertainty about military service, as casualties mounted from the wars in Iraq and Afghanistan, has for the first time in several years begun to abate.
It's not exactly clear what is causing the new trend. But military experts and defense officials speculate that the decline in casualties in Iraq and an economic downturn at home mean more Americans see themselves joining the military or supporting someone who does.
The changing perceptions could be crucial for the next presidency, as the nation considers expanding the military even more to meet demands around the world. President-elect Barack Obama has hinted that military service is a centerpiece of his idea of national service.
Over the long term, if the trend holds, it could help increase the overall quality of the force and potentially improve upon its ethnic and economic diversity.
While the military continues to rate highly in public opinion polls – consistently above other national institutions – far fewer Americans are actually interested in joining it or seeing their son or daughter do so. And since 2003 when the US invaded Iraq, the willingness of American youth to serve in the military has decreased significantly.
Perceptions worsened with Iraq war
But new data shows that is changing.
---
Follow Stories Like This
Get the Monitor stories you care about delivered to your inbox.