Army uses video games in suicide prevention
A new interactive video encourages soldiers to seek help to cope with the stress of war.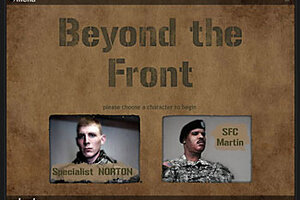 Screen Shot/Courtesy of Will Interactive
As the strains of war push the Army's suicide rate up to an all-time high, the service is turning to a fictional soldier named Spc. Kyle Norton to encourage soldiers to seek help faster.
Suicides among soldiers have increased dramatically in the last several years, up by 46 percent since the US invaded Iraq in 2003. Senior service officials recognize that the wars have affected soldiers in the form of post traumatic stress disorder and other manifestations of mental depression, but still haven't completely figured out how to address the issue.
The Army is conducting new training, handing out "buddy cards" to alert soldiers to problems among their friends, and recently announced a new five-year study to be undertaken with the National Institute of Mental Health.
But one of the more novel solutions is an interactive game called "Beyond the Front," starring Specialist Norton, a character in a kind of modern-day military morality play. The service plans to send out thousands of copies of the game – part of an Army suicide prevention program costing almost $1 million – to educate soldiers about the dangers of not seeking help when they most need it.
Role playing for real life problems
Users of the interactive video watch a drama unfold on screen and then make decisions that affect the outcome for the characters. In one scenario, Norton receives a "Dear John" letter, and then a roadside bomb kills a buddy, setting off a chain of events that require players to make decisions for the main character. Players who repeatedly choose to reach out to fellow soldiers and family members within the scenario get a happy ending. Players who opt – in their character – not to tell anyone about their problems will steer the game to a sad end.
---