To boost recruits, US Army relaxes weight rules
The waiver program allows overweight enlistees to get in shape after they sign up.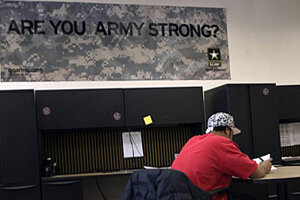 Joanne Ciccarello/Staff/File
The waistlines of America's youth are expanding, shrinking the pool of those eligible to join the US military. But an Army program is giving overweight enlistees a second chance – and helping the military with its own expansion.
The recently-introduced waiver program allows enlistees who don't qualify for the military because of their weight a chance to shape up after joining. So far, the program has helped the Army make its recruiting goals in what remains a tight recruiting market.
If the economic recession worsens, it could help the military's recruiting efforts as people seek stable employment. That could reduce the need for waiver programs. However, nutritionists don't see the trend of overweight Americans disappearing any time soon, ensuring the continuance of such programs in recruiting an all-volunteer force.
"We support any service who comes up with a scientifically defensible way of expanding the market [of recruits]," says Curtis Gilroy, director of accessions policy for the Pentagon.
Such waivers had been studied for years but the program wasn't implemented until fiscal 2007, when it admitted about 1,500 individuals through the program (just a small slice of about 80,000 recruits). Recruits must pass a special battery of tests, including a "step test," and do a number of push-ups to demonstrate their physical abilities. If they pass and are enlisted, they have a year to comply with the Army's physical requirements, measured by "body mass index," a formula that estimates body fat based on weight and height.
---