Defense spending as 'stimulus'?
Pentagon's generous budget is not likely to see cuts soon, even if Iraq war starts to wind down.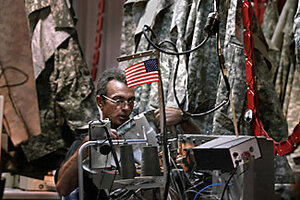 Linda Stelter/The Birmingham News/AP/File
The Defense Department has enjoyed a long budgetary heyday, but the golden times may be nearing an end as the Iraq war, which has been eating up $10 billion a month, starts winding down and recession pressures force federal budgeteers to rein in spending.
That's the conventional wisdom, at least.
But defense spending won't drop anytime soon, experts predict. Even as the nation gasped over a $1.2 trillion federal budget for this fiscal year, estimated Tuesday by the Congressional Budget Office, President-elect Obama this week signaled his resolve to spend the country out of recession. In the short term, that probably means more money for defense.
It may be impractical, for several reasons, to cut defense spending for the first year or two of the Obama administration, experts say.
One is that a de-escalating war in Iraq won't immediately curtail expenditures needed to keep troops and equipment whole. Defense Secretary Robert Gates, in a New Year's Eve request to Congress, asked for an additional $70 billion to pay for war costs. At the same time, ramped-up military operations in Afghanistan under Mr. Obama will cost the US government more.
Perhaps the biggest reason defense spending won't fall anytime soon is that it would be too hard for congressional lawmakers to justify cuts to defense during a recession, and lawmakers will instead seek to retain and renew defense contracts – and keep thousands of people in their jobs.
---