Will improved military enlistment last?
Retention rates may be hurt by the GI Bill's expanded school benefits as well as potential budget cuts.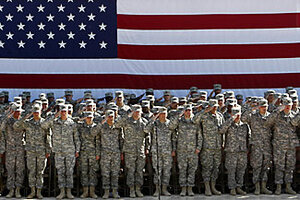 Thaier al-Sudani/Reuters/File
The US military is maintaining its allure during the economic downturn as thousands of service members are opting to stay in the service.
But a number of factors converging this year may complicate the military's ability to retain them over the next couple years.
The Pentagon is preparing to implement a comprehensive new GI Bill to subsidize service members who want to attend college. The bill, which goes into effect in August, is considered as a way to pay back a generation of troops who have made enormous sacrifices in Iraq and Afghanistan with a generous package of school benefits.
But, depending on a number of factors, including the economy, the new school benefits could induce many service members to leave the service this year to go to school on the government's dime. At the same time, the services may have to cut back on the lavish pay-to-stay retention budgets that have kept them attractive.
All this spells uncertainty for the health of the military in the next year or so.
"It's tricky. It really depends on which of these factors wins out," says Anita Hattiangadi, a senior analyst at CNA, a think tank that does work for the military.
The "Post 9/11 GI Bill" is the first significant expansion of the benefit since the first GI Bill was created in 1944. The new bill was passed last year despite disagreement between lawmakers and the Pentagon. Although both wanted to reward troops with expanded school benefits, defense officials were also concerned that an overly generous package would hurt retention.
---