Obama adjusts timing on Iraq withdrawal
The president listens to tactical commanders in extending it to 19 months.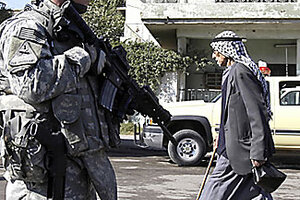 Saad Shalash/Reuters
President Obama appears to be striking a compromise between his political commitments and the tactical views of his senior military commanders in favoring a 19-month withdrawal plan for Iraq.
The drawdown plan Mr. Obama is set to announce in the next week is likely to have most US troops leaving Iraq by mid-2010. This is slightly later than the 16-month withdrawal plan his presidential campaign had promised and reflects Obama's willingness to listen to his military commanders, some of whom want a slower drawdown.
The significance of the decision is also tempered by how much wiggle room the new commander in chief leaves himself on two issues: how he chooses to respond to changing security conditions on the ground in Iraq, and the size of a residual force to be left in Iraq for the years to come.
The move strikes the right balance, say some. "This seems to be in many ways the best compromise for this particular point in time," says Tony Cordesman, a senior fellow at the Center for Strategic and International Studies, a think tank in Washington. "If conditions change, then we have to rethink it."
---