Gates lightens load for war-worn forces
Ending 'stop loss' is just one example of how he has sought to heal an overstressed military.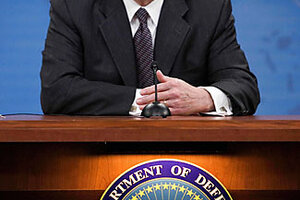 Manul Balce Ceneta/AP
After six years of war have almost worn down the military, Defense Secretary Robert Gates is trying to make the armed forces whole again.
In suspending this week an unpopular policy that required some soldiers to stay in the forces because their skills were needed in time of war, Mr. Gates is dismantling some of the policies that have caused hardship to the military.
Since the invasion of Iraq, many service members and their families have endured the mental and physical trauma of extended, back-to-back deployments. Divorce rates are high among the armed forces, and suicides are up.
Now, as the end of the war in Iraq draws closer, Mr. Gates see an opportunity to help put the military back at normal.
On Wednesday, Gates said the Pentagon was "breaking faith" with those soldiers who wanted to leave the service, but were forced to stay under the infamous policy known as "stop loss," called by critics a "back door draft."
"[Gates] seems to care about the people and he does seem to be addressing people issues in a way that his predecessor didn't," says Joyce Raezer, chief operating officer of the National Military Family Association in Alexandria, Va. But he has his work cut out for him, she adds.
"The suicide numbers, the divorce numbers, a lot of that is a result of the accumulation of years of multiple deployments, the family separations, and stress. It's going to take awhile to reverse some of those trends."
---