Pentagon budget kills F-22, pumps up Special Ops
New spending plan represents a shift toward counterinsurgency needs.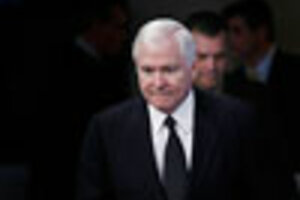 Gerald Herbert/AP
Defense Secretary Robert Gates unveiled Monday a defense budget geared toward fighting the wars in Iraq and Afghanistan. It proposes to end a controversial Air Force stealth-fighter program and to restructure a costly Army combat system while increasing spending on counterinsurgency and expanding the force.
The only Republican holdover from the Bush administration, Mr. Gates made bold proposals that are likely to run up against entrenched defense-industry interests and members of Congress alike, pushing to fundamentally reshape Pentagon spending, which he believes has been out of balance for many years.
"If approved, these recommendations will profoundly reform how this department does business," he said Monday at the Pentagon.
Gates will end the Air Force's F-22 Raptor program, leaving it with 187 airplanes that cost anywhere between $140 million a piece – and as much as $350 million when research and development is taken into account. The move was not unexpected, since Gates had hinted that the F-22, which has not been used in either Iraq or Afghanistan, is geared toward potential threats from a "near peer" adversary such as China rather than current needs.
Gates will also restructure the Army's Future Combat System, a $160 billion program of vehicle sensors and other equipment that has run over cost and has yet to fully prove itself useful in a counterinsurgency environment.
---