You can't kill F-22, Georgians tell Gates
Should military spending be seen as a 'jobs program'?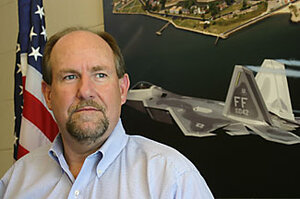 Patrik Jonsson/The Christian Science Monitor
When it came time to name the world's first fifth-generation jet fighter, the mechanics who assemble the F-22A at Lockheed-Martin's Marietta plant got the honors.
Their pick? "The Raptor." "The baddest bird in the sky," says Jeff Goen, a 30-year employee and local machinists union president.
Now that the Pentagon has said it will cap production of America's top-of-the-line fighter at 187 aircraft, plane-builders – many of them unionized and staunch Democrats – are "mad as hell," Mr. Goen says.
To be sure, the looming debate in Congress will be fundamental to the nation's defense: Is a full fleet of what's being touted as the world's premier jet fighter really necessary in a world of low-level insurgent wars and unmanned drones – a world where the Raptor has yet to see combat?
At the core of the opposition to the Pentagon's new marching orders is an argument over whether the military-industrial complex – in the midst of a recession – should be considered part of a job stimulus plan.
The coming congressional debate over the F-22's future also will test the waning power of Southern politicians to defend the military status quo. And it's likely to have an impact on nearly 100,000 workers across the US, among them the 2,000 plane-builders at the sprawling Lockheed-Martin plant here on the edge of Dobbins Air Force Base.
---