Fighting a high-tech war with a low-tech mule
US Marines and soldiers are training to fight in Afghanistan, where mules and donkeys can haul supplies and weapons to places where Humvees and helicopters can't easily go.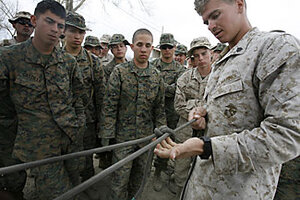 Tony Avelar / The Christian Science Monitor
Tucked at the base of a small mountain in the eastern Sierras is a makeshift paddock where a handful of US Marine Corps instructors reach deep into the history of warfare to give their charges a critical skill when they deploy to Afghanistan: how to pack a mule.
It is a peculiar course to teach in a military that is widely considered the best-trained, most capable, and highest-tech in the world.
But as the US girds to deploy more than 21,000 additional troops to Afghanistan this spring and summer, the military is having to prepare for a decidedly different kind of fight from the one in Iraq.
The American military experience during the past several years has been so defined by the Iraq war that many combat-hardened troops have never deployed to Afghanistan. The shift requires personnel from grunts to generals to tap into unique forms of know-how and to relearn the counterinsurgency lessons of Iraq in a new context.
The differences between Iraq and Afghanistan are striking: Afghanistan offers more complex linguistic and cultural challenges, a more sophisticated and perhaps determined enemy, and a rugged mountain terrain that is among the most forbidding and remote landscapes anywhere in the world.
Afghanistan's rural insurgency is far removed from the urban-based fighters in Iraq. The Taliban in Afghanistan tend to operate in larger groups than the terrorists who planted roadside bombs to attack American forces in Iraq.
---