New GI Bill too popular for the Pentagon's own good?
Veterans are rushing to take advantage of the comprehensive education benefits, raising the question of whether the bill will hurt retention.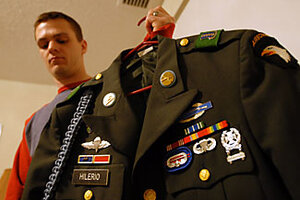 Mary Knox Merrill/Staff/File
Veterans are scrambling to sign up for a generous new GI Bill, accepting a nation's collective thanks for serving in the military since 9/11. But there are questions about whether the government's magnanimity will create a military exodus.
Since May 1, more than 25,000 veterans have signed up for the new GI Bill, which will pay 100 percent of in-state college tuition, housing, and other expenses. When the Department of Veterans Affairs (VA) opened the online registration site two weeks ago, the system crashed from the weight of interest. The stream of applicants has been steady ever since.
The concern is that the program could be so enticing that many service members will leave the military to go to school. "Some observers believe there is going to be a giant sucking sound from a large number of individuals saying, 'Why wouldn't I go to college, this is a great opportunity,' " says Cindy Williams, a security analyst at the Massachusetts Institute of Technology in Cambridge. "I would say nobody knows – in particular, the VA doesn't know and the Department of Defense doesn't really know."
The new GI Bill is an overhaul of the original 1944 law that was responsible for sending a generation of veterans to college. It will not replace the World War II-vintage bill, known as the Montgomery GI Bill. It is an additional offering by the VA.
---