New Pentagon policy adds poignancy to Memorial Day
Families can now witness the return to the US of the remains of service members killed in action, according to a six-week-old rule. For many, it is an important rite.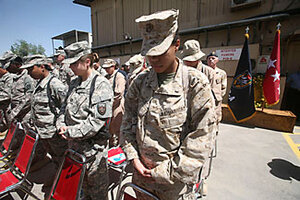 Rafiq Maqbool/AP
Dover Air Force Base, Del.
It is 1 a.m. and nearly dark on the flight line but for the spray of pinkish light that shines at the open door of a cargo plane.
The flag-covered box inside looks like every other one that has come through here. But the family standing in the plane's shadows soon recognizes it as their box. It carries the remains of 1st Lt. Roslyn 'Roz' Schulte, the spirited young Air Force officer who showed such promise, killed by a roadside bomb in Afghanistan Wednesday. As the box is taken to a waiting truck, the family quietly mourns, grateful at least to be here.
Until recently, the Schultes would have found it difficult to come. Nor could they have invited the media to share their daughter¹s sacrifice with a grateful nation. Six weeks ago, Defense Secretary Robert Gates overturned a Gulf War-era policy that discouraged families and barred the media from witnessing the return of America¹s war dead. The elder President Bush instituted the ban in the belief that pictures of casualties would turn public opinion against the war effort. [EDITOR'S NOTE: The original story mischaracterized the Pentagon's previous policy on whether families could visit Dover to witness transfers.]
---
Follow Stories Like This
Get the Monitor stories you care about delivered to your inbox.