US failure 'likely' caused Afghan civilian deaths, says report
Mistakes in the way airstrikes were carried out in Farah Province last month may have led to the deaths of 26 Afghans, according to a Pentagon investigation released Friday.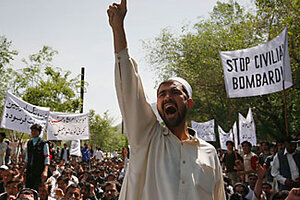 Musadeq Sadeq/AP/File
A long-awaited report on a series of airstrikes in Afghanistan last month that killed a number of innocent civilians faulted American officers on the ground and in the air for failing to strictly follow the directives of their superiors.
It also questioned the use of heavy duty B-1 bombers in a mission that requires precise targeting.
At least 26 innocent Afghans were killed in three separate airstrikes by B-1 bombers assisting ground forces during a fierce fight with the Taliban, the US military's investigation into the May 4 incident in Farah Province in Afghanistan concluded.
However, the report did not dispute an independent investigation conducted by the Afghan Independent Human Rights Commission that concluded that 86 civilians were killed in the incident. Afghan officials have also said that as many as 140 civilians were killed.
"We will never be able to determine precisely how many civilian casualties resulted from this operation, but it is inconsistent with the US government's objective of providing security for the Afghan people to conduct operations that result in their death or wounding, if at all avoidable," said the report, which was released by US Central Command late Friday afternoon.
The prolonged investigation into the incident reflects the challenges of the Afghanistan mission, which has relied heavily on airstrikes that can cause many more civilian deaths, running counter to a principle objective in counterinsurgency – the protection of the local population.
---