MRAP trucks: Afghan savior or boondoggle?
The vehicle saved soldiers in Iraq. Now it's getting a $2 billion makeover for Afghanistan.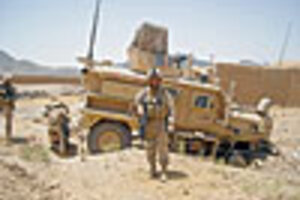 Courtesy of Eric Rummel
It took a matter of seconds to make 1st Sgt. Eric Rummel a true believer.
The marine was driving through southern Afghanistan last year when his truck hit a roadside bomb buried in a gulch. The vehicle shuddered, popped into the air, and settled back down again in a cloud of desert dust.
The whole thing was over before he knew what happened, but Sergeant Rummel and the two other men in the truck that day all walked away. The truck was a Mine Resistant, Ambush Protected truck (MRAP) – a 16-ton behemoth that came to be regarded as the soldier's lifeboat in Iraq, its V-shaped hull saving lives by deflecting the blast of roadside bombs.
Rummel's story points to the same success in Afghanistan. "God bless the MRAP and what it does," he says.
But the mammoth trucks are built for Iraq, where troops are fighting a largely urban insurgency on city streets. Afghanistan's insurgency is rural, and the Pentagon is in a race to completely redesign the MRAP for its new duty, making it lighter, with a beefier suspension and better off-road capabilities for troops who launch missions into fields and up hillsides – often with no roads.
The effort, however, calls into question one of the bedrock tenets of Defense Secretary Robert Gates's regime: He wants to prioritize equipment that saves troops' lives. But experts wonder if, in the process, he is saddling the military for years to come with a fleet of vehicles that can be used in only one spot on the globe.
---