European missile shield not set in stone, Pentagon says
The head of the Missile Defense Agency suggests the plans could be altered, echoing President Obama's desire to compromise with Russia.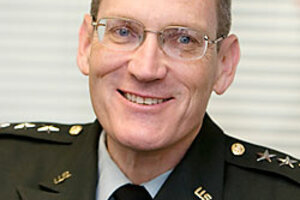 Larry Downing/Reuters
A senior Pentagon official said Tuesday the Obama administration may be open to tweaking its plans for a missile-defense system in Eastern Europe.
The missile shield, proposed under President Bush to counter a threat from Iran, would locate 10 ground-based interceptors in Poland and a series of missile radar sensors in the Czech Republic.
The move has long angered Moscow, which perceives the development of the missile shield in its backyard as a hawkish move on the part of the US. Meanwhile, American officials have long maintained that the missile system is designed to defend the region against an Iranian missile threat.
But Mr. Obama has said that differences between Moscow and Washington over the European missile-defense system may be worked out through compromise.
That could mean that the architecture or location of the missile-defense system could look different if it is ever completed.
On Tuesday, Lt. Gen. Patrick O'Reilly, director of the Pentagon's Missile Defense Agency, said that alternatives to the current plan are under consideration as part of an overall review of ballistic missile defense.
General O'Reilly says the US would work "very closely" with the Polish and Czech governments to make any potential changes to the current plan. "There would not be any surprise," he told reporters.
---