Can Afghanistan be saved? We'll know in a year, Jones says.
The national security adviser said on Sunday that new strategies need time to work. But the US will not stay 10 years.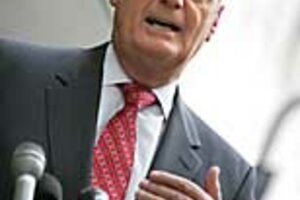 Karin Cooper/ Face the Nation/ AP
National Security Adviser James Jones asserted Sunday that the Pentagon will require a year to determine whether its Afghan strategy is working.
The comment, made on NBC's "Meet the Press," is an indication of how little progress Afghanistan has made under international stewardship since 2001 – and the enormity of the task ahead.
The top US military officer, Chairman of the Joint Chiefs of Staff Adm. Mike Mullen, called past American neglect toward Afghanistan a "culture of poverty" in a recent meeting with reporters and editors at The Washington Times. Both the nation of Afghanistan and foreign troops in Afghanistan have been under-resourced as America put its attention squarely on Iraq during the past administration.
Now, that is changing. But tellingly, Admiral Mullen suggested that, eight years after the Taliban was routed, the US military is still digging "out of a hole" and has yet to reach "year zero."
Diplomatic and military leaders have repeatedly warned that Afghanistan presents far a more complex set of challenges than does Iraq. Now that America is turning its attention toward Afghanistan more fully, it appears to be discovering the depth of the situation.
---