Refugees' plea to US forces in Iraq: protect us
Human rights lawyers say the US should intervene to safeguard the Iranians at Camp Ashraf, which was raided by Iraqi security forces July 28.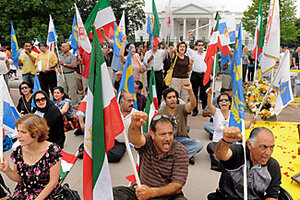 Mike Theiler/Reuters
Human rights lawyers for a group of Iranian refugees living in Iraq who appear to have been brutally beaten by Iraqi security forces last month want the US military to intervene on their behalf.
In a letter to Defense Secretary Robert Gates Monday, the lawyers ask the US military to protect a group of about 3,400 Iranian dissidents called the People's Mujahideen of Iran (MKO) who live in a camp inside Iraq about 60 miles from the Iranian border.
The US has insisted that a July raid on the camp is an issue of Iraqi sovereignty. But human rights lawyers in Washington Monday said the US had both a legal and moral obligation to prevent brutality at Camp Ashraf.
"The United States bears not only moral but legal responsibility for the events at Ashraf, and the 'sovereignty defense' is simply inadequate," said the Aug. 10 letter, signed by three human rights lawyers, including Steven Schneebaum who has acted as the MKO's counsel in the US for several years.
"We can't resume responsibility for the camp even if we wanted to," said Pentagon press secretary Geoff Morrell in an e-mail. "Under the Security Agreement, we don't have that authority; however we continue to remind the government of Iraq of their international obligation to treat those still residing in the camp as humanely as possible." [Story as been updated at 5:17 p.m. ET.]
---