Obama vows to bring his reform agenda to the Pentagon, VA
In a speech to veterans Monday, he says he intends to rein in Pentagon spending, as well as improve medical care for veterans.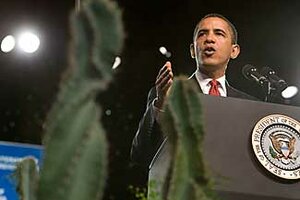 Larry Downing/Reuters
President Obama took his zeal for reform to the defense establishment Monday, pledging that he would cut wasteful spending at the Pentagon and overhaul the care that veterans receive in an effort to give "our troops the support they need."
Pentagon budgets and reform of the Department of Veterans Affairs (VA) might not inflame the American populace as healthcare reform does, put they are two massive bureaucracies that will not easily be moved. Yet in highlighting both during his speech to veterans in Phoenix Monday, Mr. Obama signaled that the status quo is not acceptable and that there is a moral imperative to undertake change.
Speaking of profligate Pentagon spending, he said: "If a project doesn't support our troops, we will not fund it. If a system doesn't perform, we will terminate it.... We will do right by our troops and taxpayers, we will build the 21st century military we need."
Likewise, he vowed to transform the VA. "Caring for those affected by [the injuries of today's wars] is a defining purpose of my budget," he said.
They represent two distinct points on a central theme: The Pentagon must be reformed to help troops win America's wars, and the VA must be resourced accordingly to help troops when they come home.
To recast the VA, Obama has hired Eric Shinseki, a former Army general fired under President Bush in the lead up to the war in Iraq. He is also bringing more resources to the agency: the current budget proposal for the VA contains the largest increase in funding in 30 years. The intent is to reduce waiting times for veterans seeking help, expand coverage, and hire more case managers to process claims.
---